Platforms for virtual and distance learning.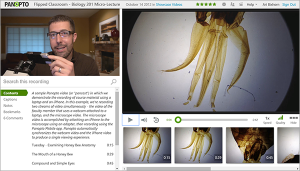 Capture and publish each element of a presentation – video, slides, screen images, and notes with just one click and no need for equipment costs or editing work.
Originally built by university teachers, Panopto was created with the needs of today's educators in mind.
That's why Panopto is the only available conference capture platform that is fully software-based, affordable for students and easy to use for faculty with minimal training.
With a flexible infrastructure that adapts to individual classrooms as well as entire campuses, Panopto is the ideal conference capture solution for all educational institutions, regardless of their size.
With Panopto, teachers can create and publish the recordings without the help of the Department of Technology or Systems or other specialized personnel.
Comprehensive recordings that include video, audio, PowerPoint / Keynote and components of the screen can be created and published online with just three clicks. And institutions do not have to invest in expensive hardware or equipment to reap the benefits of Panopto. Panopto easily runs with any webcam, as well as cameras and laptop microphones to keep costs down.
With an Internet-based management console that tracks student and faculty use, as well as student-centered features such as text-based search and note-taking skills.
Technology that is easy to use and flexible
Panopto Focus is a flexible and easy-to-use capture presentation platform that allows users to capture, modify, transmit, store and share recordings that preserve critical knowledge.
This video capture solution is available as licensed software for companies, educational institutions, or individuals. It can be installed locally behind your organization's firewall or accessed online through Panopto servers in the cloud.
This flexibility minimizes technical barriers to adoption and reduces the cost of expanding the solution through a company or educational institution.
Panopto is a Software tool to capture recordings of 'video streaming', audio, PowerPoint and the components of the screenshot to create presentations where users can search, reference and review their recordings from anywhere. Recordings also allow users to upload related PDF files to complement the information that is being delivered in their recordings.
Unparalleled scalability:
Architecture of Panoopto distributes its processes of capturing, editing, reproducing and archiving through any number of endpoints to eliminate points of failure and reduce the cost of expanding the capacity of the system. you can simultaneously record multiple streams from a computer, including the sequences on your camera's screen, a microphone or a computer.
Flexible schedule
Users can manually record or schedule presentations that begin and end without human intervention to streamline the video capture process.
Live Broadcasting:
Panopto allows users to capture video, video, audio, PowerPoint and screen components as they occur, as well as record presentations of these for later viewing. Viewers can ask questions with the live text feature.
Customize your recordings:
Users can take notes on the recordings and save them, either for public or private viewing. The notes are fully searchable, allowing users to search for specific content and can signal for their recordings to begin in areas of interest. Teachers can also use this functionality to give individual feedback to student presentations or public explanations of existing videos.
Compatible to PC,Mac, iOS or android
Advanced recording capabilities for PC, Mac, or Tablets enable all members of the organization to capture video, audio, PowerPoint / Keynote sequences and screen components, regardless of their operating system. Both recorders are easy to install and includes the same basic functionality.
Efficient content
Search all presentation texts with PowerPoint slides, notes and more. Capture metadata through all content recorded in the library itself so that users can search in any granularity – from personal notes to recording sessions own library or recording.
Web based edit function
It simplifies the editing of content so that even those who are not familiar with video editing tools can modify the recordings with ease. With patent pending intelligent technology, any user with a broadband network connection can edit their recording session instantly, without the need to download large video files or a complex learning editor.
Integrations with Content Management System and Educational Platforms:
Integration to content management systems such as Blackboard and Moodle to empower educational institutions to automatically send the recordings to the internal Web class sites so that students and teachers can access the material of a place. Please contact us for additional information on the integration of the content management system.
Instant Recordings:
With our support for H.264 / MPEG4, viewers can watch recordings (audio and video) on portable media devices such as iPhones and iPods. A
utomatic creation of podcasts and RSS feeds for recordings are also
 available 
Low Cost of Ownership:
To eliminate restrictive hardware costs, Panopto can be used, supports and is effective in hardware and cameras of all levels and quality, and captures images and video in industry standard formats (eg MP3, MP4, etc.) Institutions can create recordings with many existing hardware and audio / visual equipment, as well as with simple webcams.